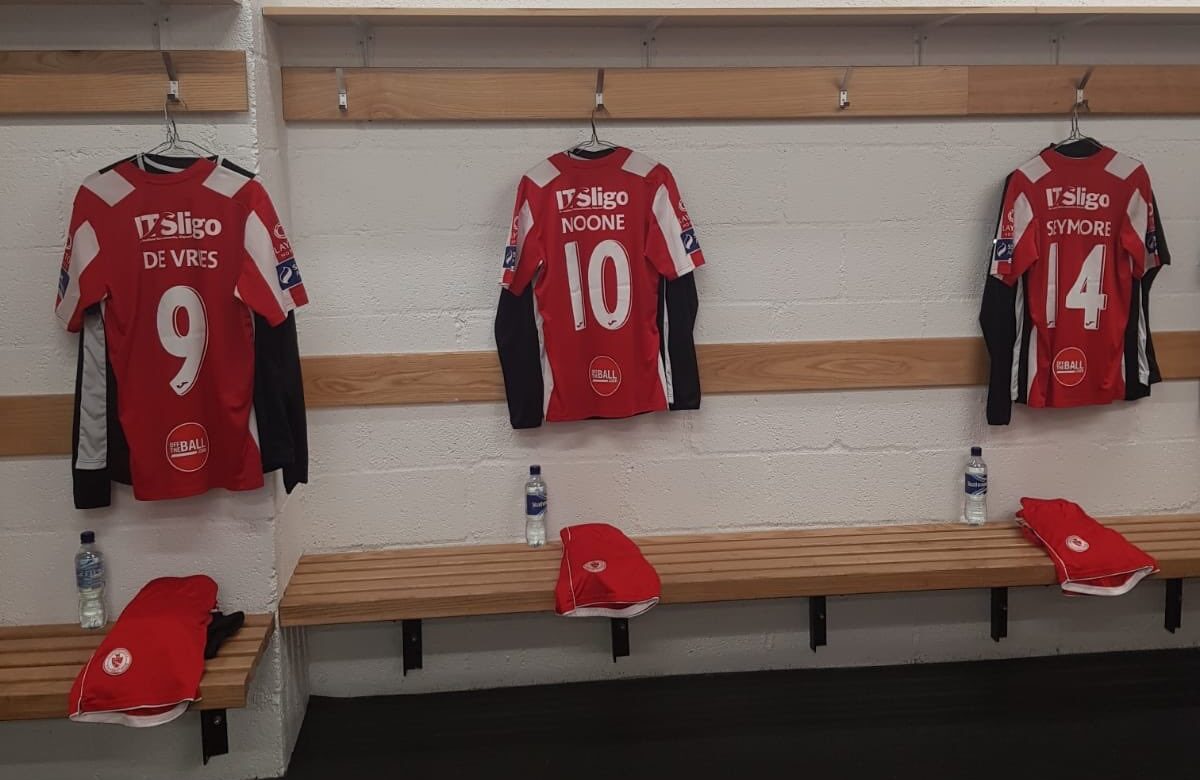 … ended Sligo Rovers' season"
Shamrock Rovers were too tall an order for Sligo Rovers to overcome in Tallaght on Sunday's FAI Cup semi-final tie after a first-half brace from Aaron McEneff left the Bit O'Red with it all to do in the second period. Rovers' performance was an admirable one, however, with Alan Mannus being busier than he might have expected before the early kick-off. The result shouldn't hamper our European charge, as it all hinges on the winner of the Cup; if Dundalk triumph over Athlone Town, Europe is ours without needing to know the winner of the final.
Liam Buckley returned to his most trusted XI, with Niall Morahan and Jesse Devers returning from suspension to replace Will Seymore and Alex Cooper. Our last trip to Tallaght was one to forget, with the Bit O'Red on the wrong end of a 4-0 scoreline. Shams made 4 changes to the team that inflicted this trouncing, with Aaron Greene, Neil Farrugia, Rhys Marshall and Gary O'Neill all departing their starting squad.
Shamrock Rovers flew out of the blocks at the start of the match, with the Hoops generating several chances in the opening seconds, one of which led to a goal after a dangerous Jack Byrne corner led to Aaron McEneff finding the net after only 3 minutes. Shams' quality was apparent in the first 15 minutes before the Bit O'Red took control of the fixture, with our lads having some dangerous attempts through Lewis Banks, Junior, and Ronan Coughlan, with the closest attempt to level the contest through the latter with a free header straight at Alan Mannus on 39 minutes. We kept up the pressure on Shams' goal until the dying seconds of the half, when McEneff got free and clipped a daisy-cutter into the bottom corner from about 20 yards out in added time of the first half.
Sligo Rovers' pressure didn't let up in the break, with the Bit O'Red having the lion's share of possession for most of the second half. Liam Buckley made his substitutions relatively early on, the first of which was at half time, with Jesse Devers hauled off for Alex Cooper. The departure of Niall Morahan and Ryan De Vries for Darragh Noone and Will Seymore was next up in the 67th minute, the objective of which was to get some much-needed fresh legs in the midfield. David Cawley was the final Bit O'Red man to be called ahead of time, with Danny Kane replacing him. After this bout of substitutions, Shams saw out the game and in doing so, ended Sligo Rovers' season.
Teams
SLIGO ROVERS: E McGinty; L Banks, J Mahon, G Buckley, R Donelon, D Cawley (D Kane 74), N Morahan (D Noone 67), J Devers (A Cooper 46), R Coughlan, R De Vries (W Seymore 67), J Ogedi-Uzokwe.
SHAMROCK ROVERS: A Mannus; G O'Brien, L Grace, L Scales, R Marshall, S Kavanagh (D Lafferty 76), R Finn (D Nugent 89), J McEneff, J Byrne (N Farrugia 76), D Watts (G Bolger 76), G Burke (D Williams 82).
Ref: P McLoughlin
Rovers Ratings
Ed McGinty: 6 – Couldn't stop either of the goals.
Lewis Banks: 7 – Was marauding down the right once again.
Garry Buckley: 6 – Wasn't intent on closing down McEneff for the second goal.
John Mahon: 6 – Did decent as did the rest of the defence to only concede two against the unbeaten league winners.
Regan Donelon: 6 – Played decent. Some good set-piece deliveries.
Jesse Devers: 5 – Had no service on the right side. Replaced at half-time for Cooper.
David Cawley: 6 – Outclassed by Sham's quality in the middle of the park. Replaced by Kane with 15 minutes left.
Niall Morahan: 6 – Didn't have license to get forward like he usually does due to the strength of Shams' midfield. Replaced by Noone.
Ryan De Vries: 6 – Didn't get much of the ball at all. Replaced by Seymore in the second half to keep it at 2-0.
Ronan Coughlan: 6 – Had our best chance but headed straight at Mannus.
Junior Ogedi-Uzokwe: 6 – Had some half-chances in the first half but couldn't score.
Alex Cooper: 6 – Cut in well off the right.
Will Seymore: 6 – Swept up decently while he was on.
Darragh Noone: 6 – Offered impetus but was too little, too late unfortunately.
Danny Kane: N/A – Didn't get enough time to warrant a rating.
Thanks to everyone reading this far down for reading these reports. It's been a good half-season. While I write this, Dundalk are in the heat of battle against Athlone in the other semi. Let's hope the next article I put out will confirm our place in Europe for next season. I've just checked the score, it's 6-0 before half-time. Let's get out the banners, because Buckley's Bit O'Red European tour is ON!!!