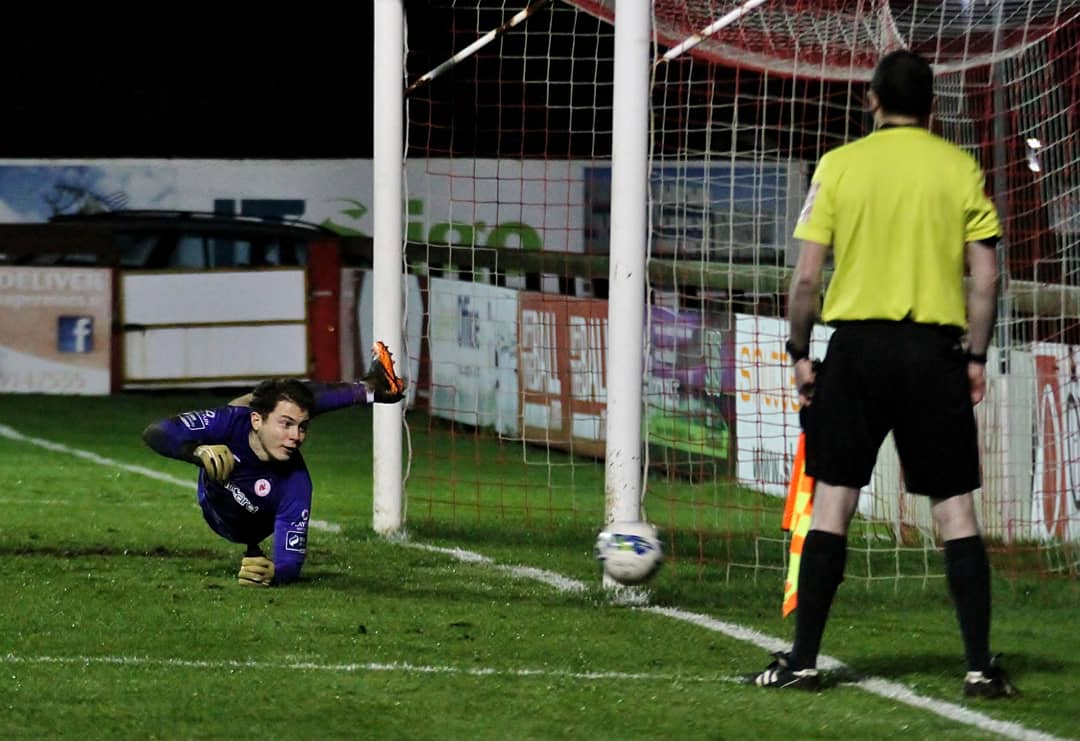 Derry City proved no match for Sligo Rovers in a penalty shootout with 4 misses, 4 goals, and remarkably, 0 saves. A scoreless 120 minutes which didn't lack in intensity gave way to a 3-1 penalty triumph for the Bit O'Red.
Wednesday's game was a long time coming, with the game being postponed from Friday the 20th due to alleged positive COVID tests in the Derry camp.

Liam Buckley made two enforced changes for Wednesday's game, with Will Seymore and Alex Cooper replacing the suspended duo of Niall Morahan and Jesse Devers. Derry made 4 changes from our previous clash with the Candystripes, which ended 1-0 after a late Ryan De Vries goal.

The first half proved to be a tense affair for the Rovers, where it was clear that neither team wanted to lose the match. City took control of the match and attempted to lay siege on the Churchill Road End goal where Ed McGinty stood, but he was rarely called into action due to our strong defense and lack of creativity on Derry's part. We finished the second half with a flourish, with Coughlan drawing a good save from Peter Cherrie from a Junior through pass. Garry Buckley volleyed just over from the subsequent corner, and soon after, the half time whistle blew.

The game opened up a lot in the second half, with both sides having chances to score. Liam Buckley waited until the 84th minute to make his first of two substitutions, switching out David Cawley for the versatile Darragh Noone. McGinty then faced a fresh barrage of relatively easy shots before matching Stephen Mallon with a great save late on. The following corner resulted in Cameron McJannet hitting the crossbar with a thunderous header. Buckley's squad woke up after this and took control of the match, with Regan Donelon nearly scoring by catching Cherrie out on a free kick, but the Derry netminder was equal to the task.

Buckley used the break between full time and extra time to reinforce the backline by bringing on a now fully-fit Danny Kane, sacrificing Ryan De Vries in the process. This change allowed Rovers to control the ball in extra time, and although it didn't lead to a goal, it certainly settled the nerves for the dreaded penalty shootout.

Rovers got the first kick of the night, and what a nice kick it was, with Jorginho Ronan Coughlan proving his worth on the spot. 1-0. Conor Clifford steps up for Derry. 1-1. Can't save those. Junior, the former Derry man approaches, and attempts to copy Jorginho Coughlan. Hits the post. 1-1. McCormack, to put Derry in the driving seat. Over the bar. 1-1. Cooper next. No messing with this one, Straight down the middle with all the power of a traction engine. 2-1. Figueira picks up the ball, puts it down and steps up. Slips. 2-1. Lovely, we're in command. Garry Buckley now. Right into the bottom left corner. 3-1. Meite needs to score to keep Derry in it. He doesn't. Rovers win. Easy as you like.

Teams
SLIGO ROVERS: E McGinty; L Banks, J Mahon, G Buckley, R Donelon, D Cawley (D Noone 84), W Seymore, A Cooper, R Coughlan, R De Vries (D Kane 90), J Ogedi-Uzokwe.
DERRY CITY: P Cherrie; C Coll, C McJannet, E Toal, C Horgan, J Malone, G Bruna (W Figueira 81), C McCormack, J Akintunde (I Meite 86), S Mallon (J Thomson 81), A Hammil (C Clifford 113).
Ref: N Doyle
Rovers Ratings
Ed McGinty: 7 – Made a good stop to deny Mallon but didn't have much else to do apart from that.
Lewis Banks: 6 – Getting forward a lot more now and forced a good save from Cherrie in the second half.
Garry Buckley: 6 – Played good. Came close on the volley off a corner. Scored his penalty.
John Mahon: 6 – Looked more intent on playing from the back and stepping out, which was needed with Morahan's absence.
Regan Donelon: 6 – Caught Cherrie off guard and nearly scored from a free at the cusp of full time.
Alex Cooper: 7 – Put in some beautiful crosses and had his man on strings on the right. Scored his penalty.
David Cawley: 6 – Had more freedom with Seymore behind him to attempt to dictate the play. Taken off for Noone.
Will Seymore: 6 – Apart from tackling his teammate in the first half (and what a tackle it was), he steadied the ship at the back and was able to play as an "anchor man".
Ryan De Vries: 6 – Played in behind Coughlan but was a bit too far up to receive the ball where he likes it. Taken off for Kane at the beginning of extra time.
Ronan Coughlan: 6 – Suffered from a lack of service. Scored his penalty Jorginho-style.
Junior Ogedi-Uzokwe: 6 – Was persistently fouling down the left but when he wasn't was winning the ball and driving well. Missed his penalty, but only because he wanted to give back to his old club (I need to stop making excuses for these).