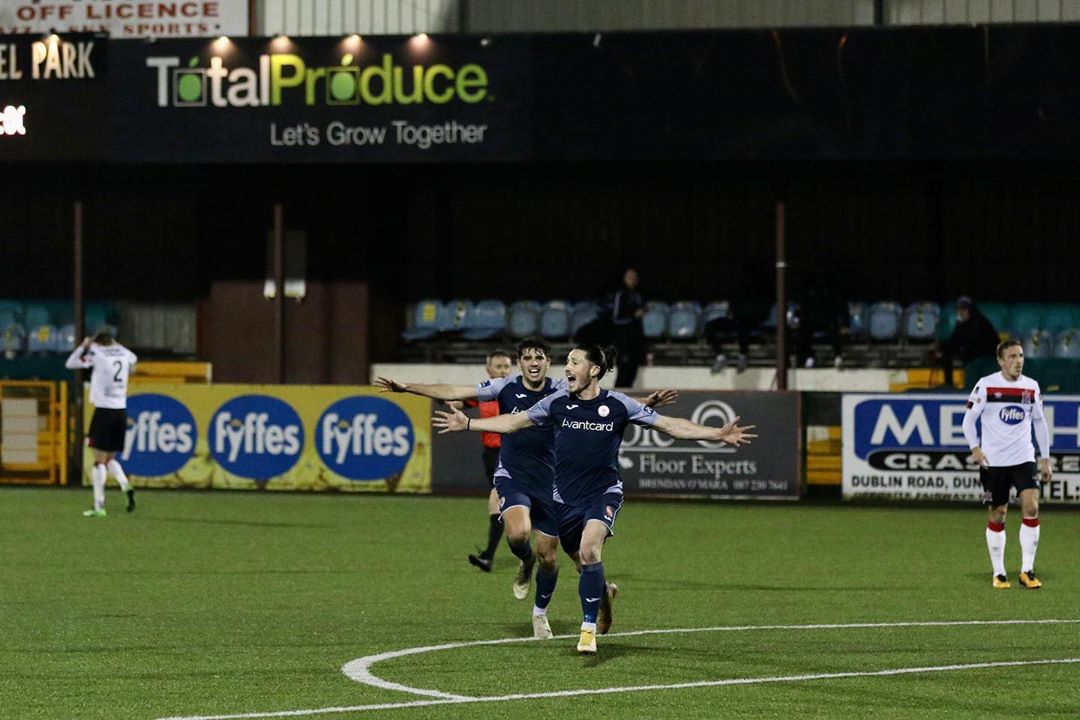 Sligo Rovers defeated Europa League challengers Dundalk by 2 goals to nil on Monday night in Tolka Park to close out the league season. The result means that unless Athlone Town, Finn Harps, or Derry City (who we play next) win the FAI Cup, a European trip is on the cards for next season (!!!!!!) for the first time since 2013.
Before Monday's game, 4th was possible by two means; we win and Waterford lose, or we win by two and Waterford draw 0-0 (why not both!); so if we were to qualify, we owe our neighbours Finn Harps a favour.
Rovers made one change for their final league game of the season, with David Cawley returning to the XI in place of Will Seymore. Dundalk made 6 changes from their last game, with former Rovers man Gary Rogers returning as net-minder.
Rovers made a scintillating start to the game and had the Lilywhites on the retreat from the off aside from a potshot from 20 yards about 2 minutes in. Rovers made their advantage count after 9 minutes when Banks was equal to Nathan Oduwa's rainbow flick attempt and was able to find De Vries. Our New Zealander flicked away and brought the transition out right to Jesse Devers, who c̶o̶u̶l̶d ̶r̶u̶n̶ ̶t̶o̶ ̶t̶h̶e̶ ̶b̶y̶l̶i̶n̶e̶ ̶a̶n̶d̶ ̶g̶e̶t̶ ̶a̶ ̶c̶r̶o̶s̶s̶ ̶i̶n̶ hit a looping cross-shot which evaded Rogers and nestled into the stanchion. After this certainly anomalous way to take the lead, Rovers began to take control of the game and pressured Dundalk into many sloppy mistakes, not something you'd expect from a team in European contention. Dundalk did manage to rally a series of corners which forced a save of the season contender from Ed McGinty on 43 minutes. Junior nearly doubled our lead before half-time from Banks' cross but our man couldn't muster a powerful effort.
In the second half, Dundalk attempted to pile on the pressure; but that proved to be to Liam Buckley's advantage, as the Bit O'Red stood firm and mustered quite a few counter-attacking chances. Regan Donelon, on a yellow, was taken off for Alex Cooper to provide some fresh legs down the left on the hour. Chances came and went for both sides, before Ryan De Vries' evening was drawn to a close with Darragh Noone replacing him. Shortly after, Niall Morahan pulled up with cramp (it looked to be cramp anyway) and was swapped for Will Seymore. In doing this, Buckley looked to preserve the one goal lead and brought the team into a more defensive shape, inviting Dundalk forward to lay siege on our fortifications. The breaches in the fortifications were seldom but caused huge panic, especially on two occasions, where carnage in the area ultimately led to a tame shot into McGinty's grasp. The ball was hoisted into the air in Dundalk's half soon after, and Junior rose to win the duel in the air. The ball then fell to our top scorer Ronan Coughlan, who took a touch, set himself, and delivered an absolute postage stamp into the top bins (as the kids say these days) from 20 yards out, and with that, Rovers' job was done.
Teams
SLIGO ROVERS: E McGinty; L Banks, J Mahon, G Buckley, R Donelon (A Cooper 64), D Cawley, N Morahan (W Seymore 78), J Devers, R Coughlan, R De Vries (D Noone 74), J Ogedi-Uzokwe.
DUNDALK: G Rogers; S Hoare, B Gartland, C Dummigan (D Leahy 83), D Cleary, G Sloggett, G Morrissey, N Oduwa, S Murray (S Gannon 46), J Flores (J Mountney 74), S Colovic, P Hoban (D McMillan 45)
Ref: D Tomney
Rovers Ratings
Ed McGinty: 8 – A clutch save (some more urban language) at the dying embers of each half. Sooner we sign him up for '21 the better.
Lewis Banks: 6 – Gave some good attacking output in addition to his defence.
Garry Buckley: 6 – Buckley (Liam I mean) seems to have found his best pairing with this duo.
John Mahon: 6 – Settled at the back now.
Regan Donelon: 6 – Played decent.
Jesse Devers: 8 – Put in a bolt from the blue early on which allowed to momentum, and eventually the result, to come our way.
David Cawley: 6 – Played good, kept it tight ahead of the defence.
Niall Morahan: 6 – Didn't get many opportunities to burst from deep
Ryan De Vries: 7 – Kept the ball moving in the 10 position.
Ronan Coughlan: 8 – Produced when we needed him.
Junior Ogedi-Uzokwe: 6 – Evaded the Dundalk defence well.
Alex Cooper: 6 – Did his job defensively.
Darragh Noone: 6 – Was a presence in the air that we needed late on.
Will Seymore: 6 – Did what he was instructed to do – kept it tight.