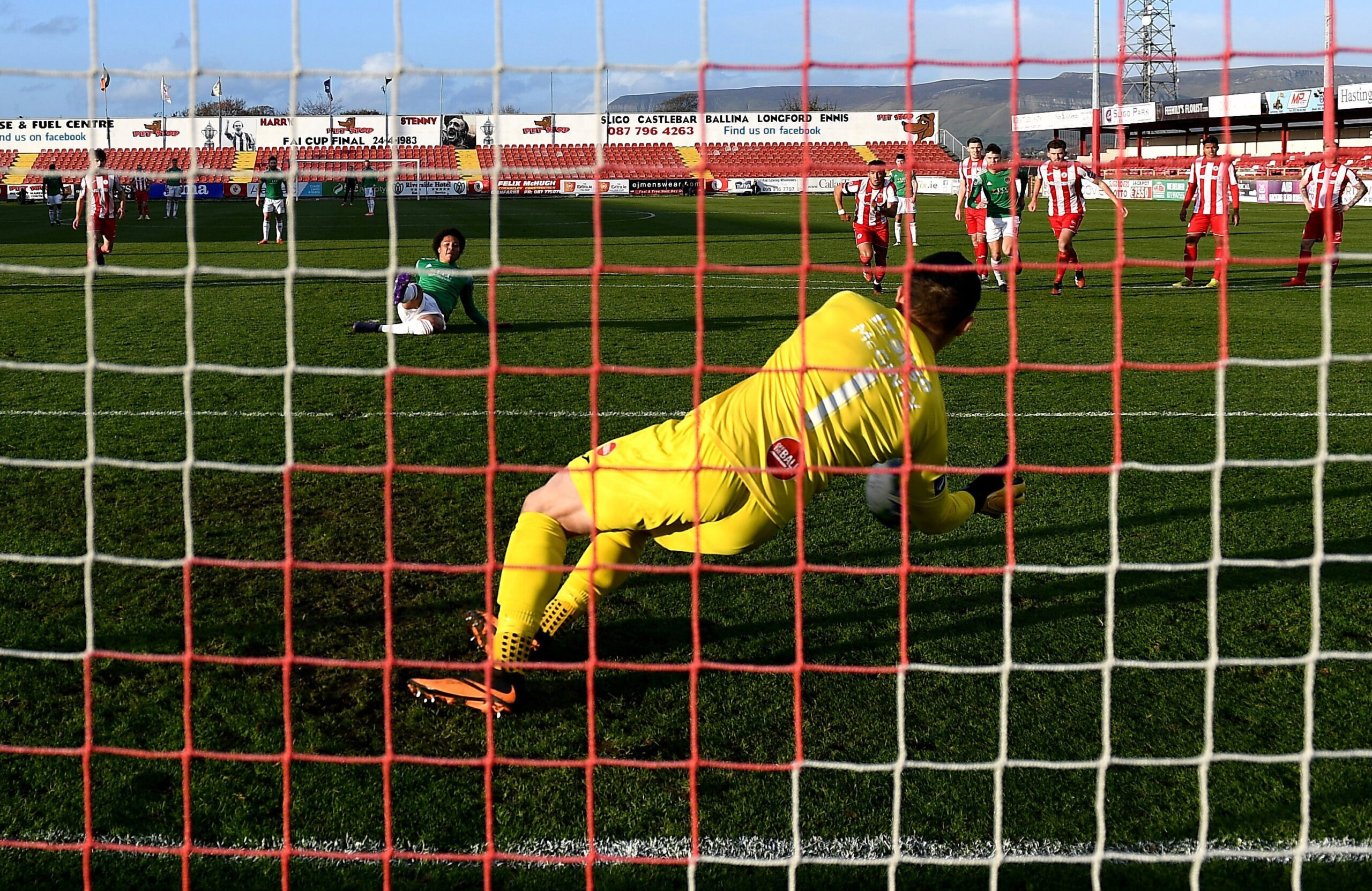 Sligo Rovers triumphed 2-1 against a youthful Cork City side who gave a better performance than their condemnation to the First Division illustrated on Saturday night. Two penalties proved crucial to the result, with the first coming after only 7 minutes.
Rovers lined up with a more attacking shape than the defeat at Tolka Park last week, with Regan Donelon, Garry Buckley, and Will Seymore replacing Teemu Penninkangas, Sigitas Olberkis and David Cawley, the latter two of which join our lengthy injury list.
Cork City sat at the foot of the table before this game, with the two teams having the 2nd and worst form in the league and needed a win to have a chance of staying up if results went their way (spoiler alert; they didn't). Their ferocity surprised the Bit O'Red early doors; with their ability to create chances leading to a penalty after Alec Byrne's shot hit off John Mahon's outstretched arm. Kit Elliot's resulting spot-kick was saved with aplomb by McGinty, diving low to his right to put the ball out of play. A couple of minutes later and the Rovers hit the front, with McGinty again proving pivotal. His long ball forward caused disarray in the Rebel Army ranks and allowed Junior to pounce, outpacing Ochieng and poking past the onrushing Bossin. Rover's superiority showed throughout the rest of the half, with Devers, Coughlan, and Junior all having efforts but couldn't find the net before the half-time whistle.
Ryan De Vries wasn't 100% to play 90 minutes and was taken off for Darragh Noone at half-time. Cork found control of the game in the second half and had chances to threaten McGinty through O'Brien-Whitmarsh, but the equaliser came through the substitute Dylan McGlade, when his low drive from a wide free-kick evaded everyone in the box before nestling in the bottom corner. This dominance continued with Cian Coleman coming close (any English teacher would be proud of that alliteration) from a cross-shot soon after McGlade's effort. After this however, the game opened up and both sides traded chances until chaos ensued in the Leesider's box after a dangerous corner fell to Junior who was fouled by Bossin, and Rob Hennessy pointed to the spot accordingly. It was Ronan Coughlan's duty to convert, and convert he did, tricking Bossin with a Jorginho-esque technique (our man created it, Jorginho just publicised it). Donelon was then swapped for Cooper to provide some impetus and energy on the left flank. The Bit O'Red were then able to see out the game comfortably and, with the aid of Finn Harps, condemn Cork City to relegation.
Teams
SLIGO ROVERS: E McGinty; L Banks, J Mahon, G Buckley, R Donelon (A Cooper 76), W Seymore, N Morahan, J Devers, R Coughlan, R De Vries (D Noone 45), J Ogedi-Uzokwe.
CORK CITY: L Bossin; H Ochieng, J Olowu, J O'Brien, K O'Connor; R Hurley (C Bargary 45), G Morrissey, C Coleman, A Byrne (D McGlade 60), B O'Brien-Whitmarsh (C Murphy 80), K Elliot.Ref: R Hennessy
Rovers Ratings
Ed McGinty: 8 – A penalty save and an assist. Would've had the trifecta but McGlade had other ideas.
Lewis Banks: 6 – Did good in defence.
Garry Buckley: 6 – A solid display at centre-half.
John Mahon: 6 – Did well for the second game running.
Regan Donelon: 5 – Didn't operate with as much fervour as we're used to. Replaced by Cooper with 15 minutes left.
Jesse Devers: 6 – Put in some teasing crosses and came close to scoring in the first half.
Will Seymore: 6 – Played good, kept it tight ahead of the defence.
Niall Morahan: 7 – So good at moving the ball forward. Always there between the lines.
Ryan De Vries: 6 – Obviously wasn't at full fitness aand was taken off at half-time.
Ronan Coughlan: 7 – Won the game with the penalty technique he invented.
Junior Ogedi-Uzokwe: 7 – Did well to get the first goal, hopefully he can kick on from here.
Alex Cooper: 6 – Did good apart from an arguable foul throw late on.
Darragh Noone: 5 – Didn't get a lot of the ball.