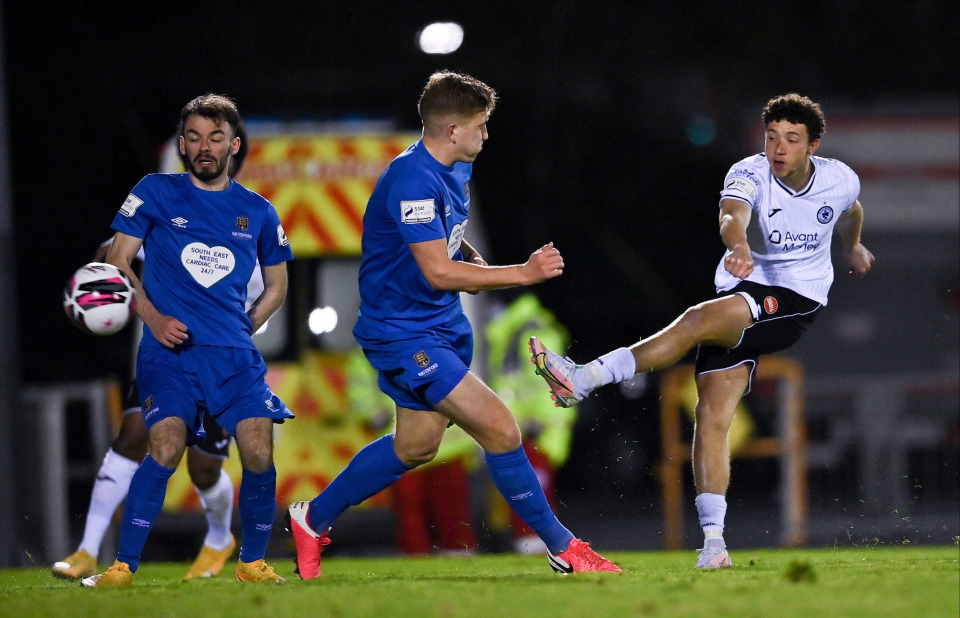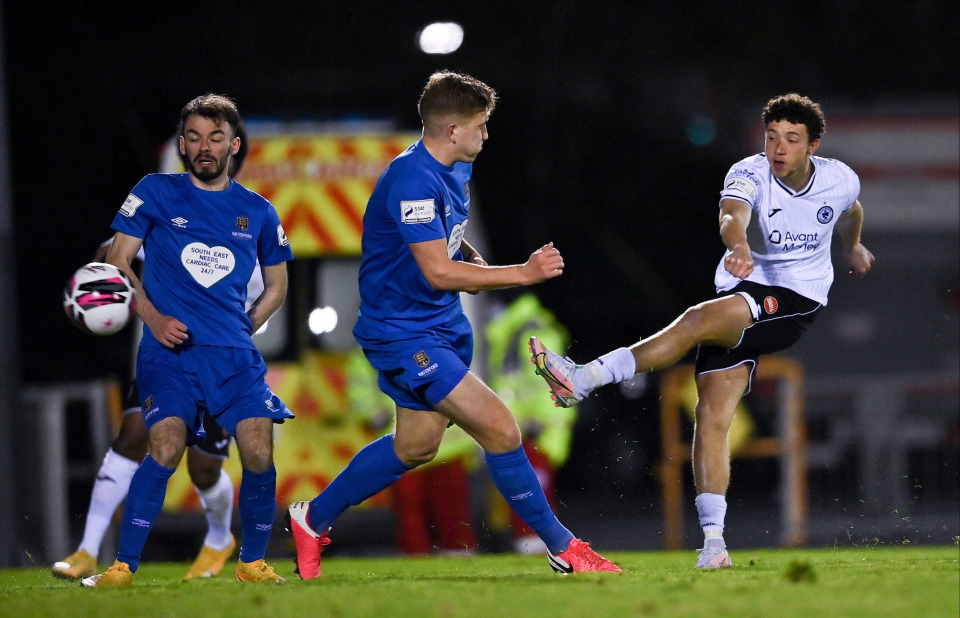 cutting in from the right wing and using his "weaker" left foot to arrow the ball off the post and into the net
Waterford United, despite hitting the front after 5 minutes, were unable to see the game out against a Sligo Rovers side quickly becoming familiar to the eye on Friday night. Cian Kavanagh headed home for Waterford from a corner after 5 minutes, but it was Romeo Parkes who volleyed home with 10 minutes until half time to equalise. In the second half, Jordan Gibson found the top corner brilliantly after cutting inside from the left wing. Today's game was also the first time we saw the Bit O'Red's stunning new white strip in action at the RSC.
Liam Buckley obviously saw no weaknesses in the line-up which contested the match against Dundalk last Saturday at the Showgrounds, and as such fielded an unchanged XI, with Ryan De Vries returning to the bench after returning from quarantine. Waterford made 3 changes from their last game which ended in defeat to Drogheda United, with Tunmise Sobowale being replaced by Darragh Power, Shane Griffin in place of Katlego Mashigo, and Cian Kavanagh replacing Jamie Stafford.
Both teams started the match with vigour, but it was clear that Waterford had come out of the blocks quicker, with a lofted corner from Mascoll's boot finding the head of an unmarked Cian Kavanagh who struck home with a nice headed effort on 5 minutes. It could have been 2-0 if not for some Ed McGinty heroics, producing a stupendous double save using his foot to deny Waterford their 2nd goal of the match – and of the season. Rovers enjoyed the lion's share of the ball after this period, with Johnny Kenny stinging the foot of the post with a headed effort after 10 minutes. The Bit O'Red kept this momentum until the 35th minute, where Jordan Gibson evaded trouble with a mesmerizing run and delivered a powerful cross into the path of the onrushing Romeo Parkes, with the Jamaican international providing a wonderful volley into the roof of the net. Rovers' pressure only increased thereafter until half time, with Parkes again coming close while being one on one with Brian Murphy after an excellent pass from Garry Buckley.
Rovers kept this adamant pressure going into the second half with Jordan Gibson coming close with a free after Johnny Kenny was fouled outside the area. He would get a second chance just minutes later, and take it in splendid style, cutting in from the right wing and using his "weaker" left foot to arrow the ball off the post and into the net. Waterford switched on again after this, having plenty of half-chances on McGinty's goal, none of which would trouble the Glasgow-born keeper. David Cawley came on for Walter Figueira for the second consecutive game to anchor the midfield on 68 minutes, followed by Ryan De Vries getting some minutes into the tank after his lack of pre-season, replacing Johnny Kenny.
All in all, our trip to the Regional Sports Centre was a very productive one, and we look forward now to Longford in… Longford! See you on Wednesday for another report.
Teams
SLIGO ROVERS: E McGinty, C Horgan, J Mahon, G Buckley, R McCourt, J Gibson, G Bolger, N Morahan, W Figueira (D Cawley 68), R Parkes, J Kenny (R De Vries 72).
WATERFORD: B Murphy, D Power, K Ferguson, C Evans, J Mascoll, J Waite, O Brennan, S Griffin (E Molloy 66), A O'Reilly, C Kavanagh (J Martin 81), P Mutswunguma (D Murphy 64)
REF: Paul McLaughlin
Rovers Ratings
Ed McGinty: 8 – Pulled out some great stops including a terrific double save in the first half to keep it at 1-0.
Colm Horgan: 8 – A very impressive performance at both ends. His and Gibson's linkup could be scary – but not for us.
Garry Buckley: 7 – Was labelled a Toby Alderweireld-type defender on commentary because of his pinpoint passing, and I can't think of anything more clever to say than that so I'll reciprocate it here.
John Mahon: 7 – Was tough in his tackling, which was needed against the strikers of Waterford's calibre.
Robbie McCourt: 6 – Thought he was shaky defensively in the first half but he improved in the second period.
Jordan Gibson: 9 – The guys a star, he played like a clone of Arjen Robben tonight on the right.
Greg Bolger: 7 – Grew into the game, got a hold of the ball more in the second half and stamped his mark on the game.
Niall Morahan: 6 – An overall solid performance.
Walter Figueira: 5 – Didn't seem to be on the same wavelength as the rest of the team tonight but I'm sure those errors will be seldom once he beds into the squad.
Romeo Parkes: 7 – Was quiet until his goal, which was a beaut. Kicked on after that and got himself more into the game.
Johnny Kenny: 6 – Wasn't blessed with service and still managed to hit the post from a header he had no right to win early on.
David Cawley: 6 – Looked a lot more solid in a 4-3-3 with him on the pitch.
Ryan De Vries: 6 – Brought on for some match sharpness as he missed all of pre-season because of restrictions.