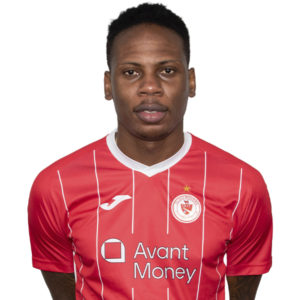 Sligo Rovers won 2-1 over a determined Finn Harps side in Finn Park on Friday evening, cementing our place at the top of the table by 4 points, although Shams have a game in hand. Romeo Parkes scored and got sent off on either side of Tunde Owolabi and Lewis Banks' goals, with Ed McGinty securing the win with a collection of showreel saves in the latter stages of the match.
An unchanged team from our victory at Tallaght Stadium started the match in Ballybofey, with David Cawley, Danny Kane and Darren Collins out injured. Finn Harps made only one change from our last game against them in the Showgrounds, with Owolabi coming in for Mark Russell.
The first half was a crazy affair, beginning with two goals in 60 seconds through Romeo Parkes and Tunde Owolabi to make it 1-1 after 6 minutes. Romeo's strike came from a corner palmed away into his lap allowed him to volley home. Before the end of the half, however, the ball was in our net through Tunde Owolabi after Harps carved open our defence. There were some more hairy moments through Owolabi, who drew saves from McGinty and put a big chance wide near the half-hour mark.
The frenetic pacing of the match continued into the second half as both teams began to make things scrappier, although Rovers went ahead on the hour through Lewis Banks of all people, when aerial pinball from a corner led to him being able to volley past Mark McGinley. It was a mere 2 minutes after this when a red card was brandished by Paul McLaughlin to Romeo Parkes for… something after staying calm during an altercation with Kosovar Sadiki. Liam Buckley didn't panic after this questionable decision and instead chose to replace our goalscorer Lewis Banks with Colm Horgan, a switch becoming ubiquitous in recent games. With their man advantage, Finn Harps began to dominate proceedings, forcing Ed McGinty into a string of exquisite saves to keep the Bit O'Red ahead. Johnny Kenny replaced Walter Figueira in the 78th minute to freshen up the attacking trident before McGinty produced his magnum opus in added time with a world-class stop up and to his left from a bullet header off the head of the substitute Sean Boyd.
What a game! Unfortunately, that's all she wrote for this part of the season, we've got a break for a fortnight until our next game (Drogheda at home on the 12th of next month). If all goes well, some fans might be able to access the Showgrounds for the first time in a while (I think, I didn't pour through the government plan yet but sure look). If you can't, you'll have my report to fall back on.
Teams
SLIGO ROVERS: E McGinty, L Banks (), J Mahon, G Buckley, R McCourt, J Gibson, G Bolger, N Morahan, W Figueira (J Kenny 78), R Parkes (Red Card 62), M Byrne.
FINN HARPS: M McGinley, D Webster (J Dunleavy 67), E Boyle, K Sadiki (M Russell 84), S McEleney, T Owolabi, K O'Sullivan (S Boyd 78), W Seymore (R Connolly 78), M Coyle, B McNamee, A Foley (T McNamee 84).
REF: Paul McLaughlin
Rovers Ratings
Ed McGinty: 8 – Produced a number of sublime stops from Owolabi et al. That last minute stop…. The only negative is that Everton could snap him up from this partnership.
Lewis Banks: 7 – Finished with the composure of a 20-goal-a-season striker. Taken off for Horgan a couple of minutes after.
Garry Buckley: 6 – Was decent. Got spun a couple times but recovered.
John Mahon: 6 – Was kept honest by Owolabi but played well.
Robbie McCourt: 6 – Decent on the left.
Greg Bolger: 6 – Tenacious as he always is.
Niall Morahan: 6 – Found nice pockets of space when we were in possession in the defensive third to build out from.
Walter Figueira: 6 – It was always gonna be difficult with Harps' low block for him to work his magic.
Jordan Gibson: 6 – Found some nice pockets between the Harps midfield and defence.
Mark Byrne: 6 – Productive with his crosses from the right wing.
Romeo Parkes: 7 – Was at the right place at the right time to open the scoring. Thank goodness we won otherwise this report would be 400 words of Paul McLaughlin libel after that decision for the red card.
Colm Horgan: 6 – Efficient as ever on the right.