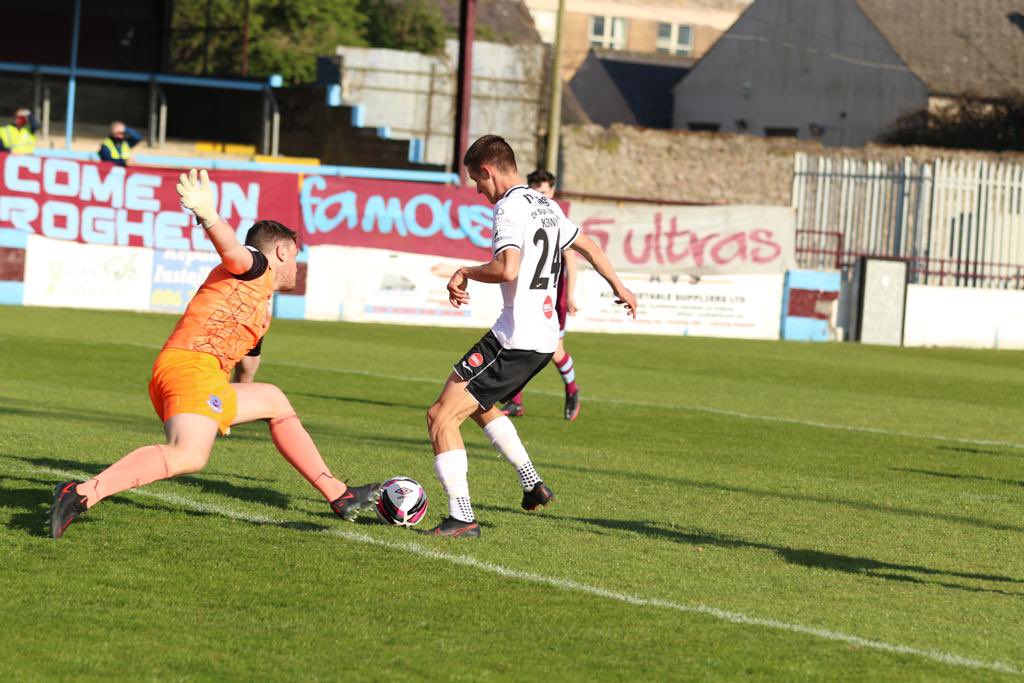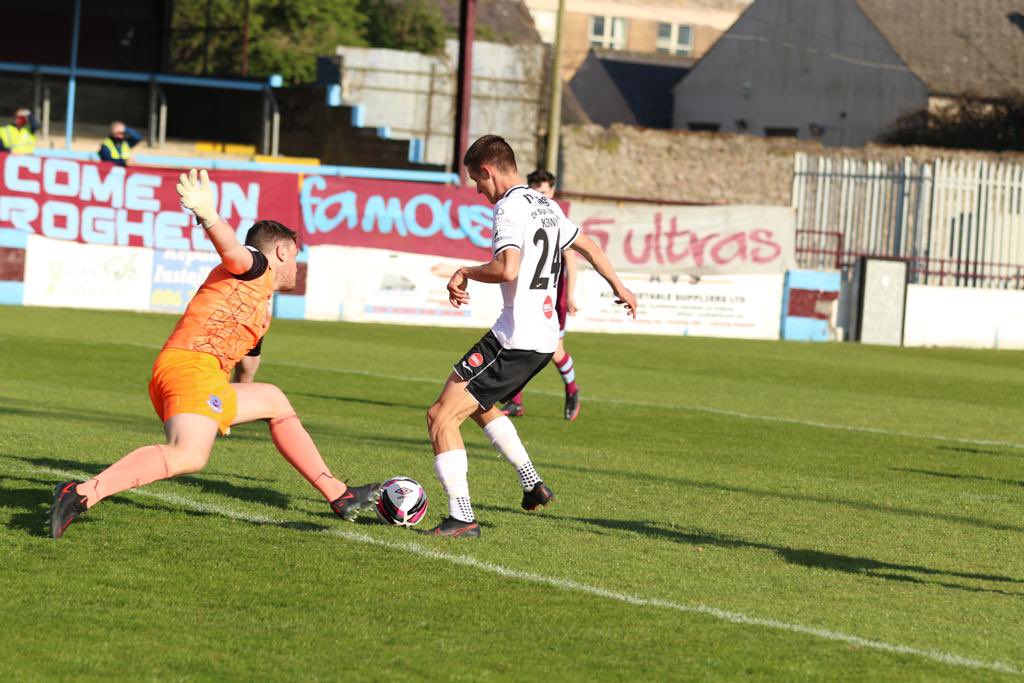 Sligo Rovers drew 1-1 to Drogheda United in Head in the Game Park on Friday night with Chris Lyons and Johnny Kenny scoring the goals. The match was an interesting affair, with a plethora of chances for either side.
Wholesale changes (by our standards so far) were made from our defeat last time out when we hosted Derry, with Shane Blaney making his first start for the club in the place of David Cawley, and Lewis Banks deposing Colm Horgan at right back for this match. Niall Morahan was also ruled out after a late fitness test, with the youthful Cillian Heaney replacing him on the bench. Drogheda lined up with 1 change from their defeat to local rivals Dundalk, with Mark Doyle replacing Hugh Douglas. Ronan Murray, a former Rovers man of course, lined up for the Claret and Blue Army too.
The first half was a captivating affair, with both teams at each-others throats from the off. However, it was Drogheda who drew first blood, with Ed McGinty at fault, coming out too far for a free-kick he couldn't win, the resulting header falling to Chris Lyons who struck home. The Bit O'Red were unperturbed by this however, and equalised through Johnny Kenny after a nice vertical pass from Garry Buckley found Walter Figueira, whose shot was too hot for Colin McCabe to handle, which allowed Johnny Kenny to poke home from about 1 yard out (crazy far out, I know). Rovers continued to lay siege on McCabe's goal through Romeo Parkes and John Mahon before half-time.
The second half was a more tense encounter than what had preceded it in the first period, with less chances falling Rovers' way. Drogheda took the game by the scruff of the neck with some huge chances to score through Killian Phillips but the youngster couldn't find the net. Rovers resorted to attempting to hit on the break, with the substitution of Romeo Parkes for Ryan De Vries an effort to facilitate this. In the end, the game ended honours even, with 1 goal apiece.
Thanks for reading. Our next match is against the high-flying St Pats on Monday evening at a quarter to 6. See you afterwards on the BORST YouTube channel for a post-match rundown and for my report on the proceedings right here on borst.ie.
Teams
SLIGO ROVERS: E McGinty, L Banks, J Mahon, G Buckley, R McCourt, D Cawley, G Bolger, N Morahan, J Gibson, R Parkes (R De Vries 80), J Kenny.
DROGHEDA UNITED: C McCabe, J Brown, D Massey, R O'Shea, D O'Reilly, G Deegan, D Markey, R Murray (J Clarke 72), M Doyle (L Heeney 52), K Phillips, C Lyons.
REF: Robert Harvey
Rovers Ratings
Ed McGinty: 5 – Looked shaky and dare I say, unreliable in nets today.
Lewis Banks: 6 – A good performance in his first start.
Garry Buckley: 6 – Did decent at the back – nothing more to say really.
John Mahon: 6 – Solid enough, nearly scored before half-time from a corner.
Robbie McCourt: 6 – Another good display for a consistently good player.
Greg Bolger: 6 – Good good good – that's all.
Shane Blaney: 6 – A very good debut for the club despite his yellow card.
Walter Figueira: 7 – Played really well, with some nice flicks on show.
Jordan Gibson: 7 – Danced and weaved through the defence at times.
Romeo Parkes: 7 – He was unlucky with some of his attempts in the first half.
Johnny Kenny: 7 – Wasn't involved in the second half but got us that all-important equalizer.
Ryan De Vries: N/A – Got involved in his limited time on the pitch.
After Match Reception