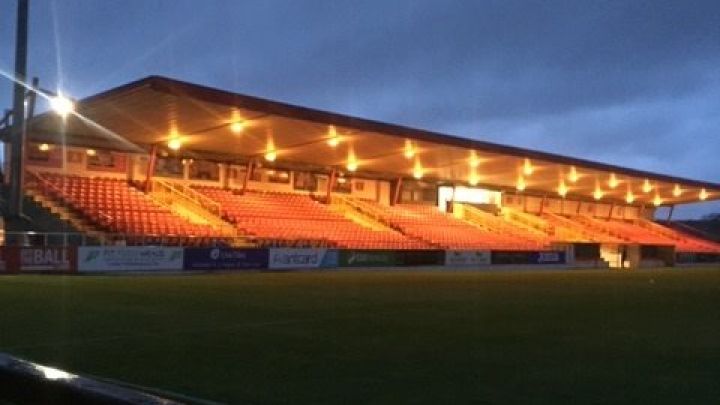 Sligo Rovers controlled proceedings but were wasteful in their second leg tie against FH Hafnarfjörður, condemning the Bit O'Red to a 3-1 aggregate defeat. All the goals in the Showgrounds came from set-pieces, with carnage in Rovers' box from a wide free-kick and a penalty for each side providing the action on Thursday evening.
Rovers made 3 changes from the first leg with Regan Donelon, David Cawley and Walter Figueira replacing Colm Horgan, Greg Bolger and Mark Byrne for a game where attack was necessary considering our first leg deficit. FH made one change from the previous clash, with Vuk Dimitrijevic replacing Helgason.
The first half was dominated by Sligo Rovers and their continued presence in Hafnarfjörður's box led to a number of chances and corners, but no goals. The most jarring miss came in the middle of the half when Romeo Parkes controlled a long ball and drove into the box but the chance from his cutback was put wide. FH's timewasting would prove to be beneficial. A fairly innocuous tackle from Lewis Banks led to a free-kick and pinball in the box, which ultimately resulted in the opening goal of the match for Hafnarfjörður, against the run of play and on the stroke of half time.
It went from bad to worse for Rovers after the break as Regan Donelon was caught in possession and gave away a penalty, pulling down Jónsson in the box. Lennon made no mistake in converting past McNicholas' dive to make it 2-0 on the night and 3-0 on aggregate. There was hope after a bout of substitutions with a fresh and a familiar face coming on with Adam McDonnell and Seamas Keogh making club debuts. It was another substitute who brought Rovers a faint glint of hope with a late penalty but in the end, it wasn't to be.
This one was hard to write, folks. We'll be back again with Waterford away on Sunday.
Teams
SLIGO ROVERS: L McNicholas, L Banks, G Buckley, S Blaney, R Donelon (D Kane 70), J Gibson (S Keogh 78), D Cawley (C Horgan 70), N Morahan (A McDonnell 78), W Figueira, R De Vries (J Kenny 58), R Parkes.
FH HAFNARFJÖRÐUR: G Nielsen, G Kristjánsson, P Vidarsson, G Þórisson, H Gunnarsson, B Sverrisson (Róbertsson 80), E Jonsson, J Jónsson (Arnarsson 90), V Dimitrijevic (Guðlaugsson 73), S Lennon (Hreidarsson 90), M Vilhjálmsson.
REF: Luis Teixeira
Rovers Ratings
Luke McNicholas: 6 – Was helpless for both goals.
Lewis Banks: 6 – Was productive in the first half.
Garry Buckley: 6 – Shuttled the ball well when in possession.
Shane Blaney: 6 – Solid despite the goals.
Regan Donelon: 5 – Was sloppy in giving away the penalty. Taken off for Kane.
David Cawley: 6 – His playmaking efforts helped us in the first half but once the second goal went in and heads dropped, he couldn't make his mark on the game. Hooked for Horgan.
Niall Morahan: 6 – Wasn't troubled by FH's midfielders. Replaced by McDonnell late on.
Walter Figueira: 6 – Did well in the first half but as FH sat deeper he couldn't work his magic.
Jordan Gibson: 6 – Didn't stamp his authority on the game in the way he would've wanted. Subbed off for Keogh.
Ryan De Vries: 6 – Didn't get much of the ball on the left. Kenny came on in his place on the hour mark.
Romeo Parkes: 6 – Alone up top at times.
Johnny Kenny: 7 – It's hard to justify him starting with only one day's training before the game but come on, we looked a different side with him on the pitch.
Danny Kane: 6 – Did decent in a somewhat new role to him.
Colm Horgan: 6 – Grabbed the ball and brought it back to the centre circle after the consolation so the mentality is there!
Seamas Keogh: N/A – Probably wasn't the most enjoyable debut for the local lad but he now has more European appearances than Pelé so… every cloud?
Adam McDonnell: N/A – Didn't get enough time on his debut to warrant a rating.