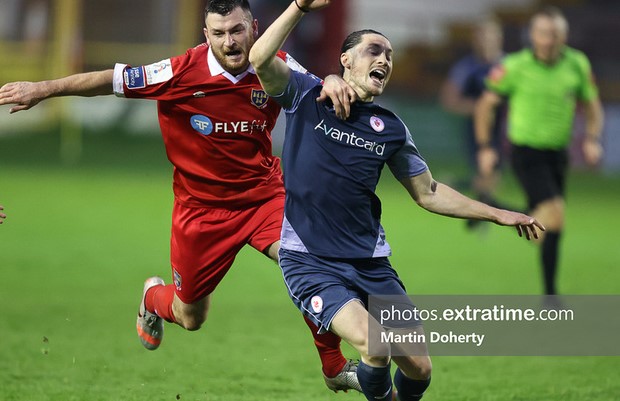 Sligo Rovers fell to a 1-0 defeat against a dogged Shelbourne side on Sunday who received a red card due to Luke Byrne's late challenge after 68 minutes. This loss leaves Rovers 7th, now level on points with Shelbourne and St.Pats, however the latter have two games in hand.
Liam Buckley made 4 personnel changes and wholesale tactical changes from our last game against Shamrock Rovers, with Sigitas Olberkis, Lewis Banks, David Cawley and John Mahon (who returned to action for the first time in 8 months) replacing Darragh Noone, Kyle Callan-McFaddan, Will Seymore, and Garry Buckley respectively.
Shelbourne sat in 8th before Sunday's clash and any points they could pick up would be crucial. This hunger to get a result showed early on as they were energetic throughout the pitch and took the lead near the 20th minute when Penninkangas' pocket was picked before an excellent bit of play from Dayle Rooney to dummy for his captain Gary Deegan to rifle in off the crossbar. Shelbourne could've doubled their lead on the half-hour mark, when This awoke the Bit O'Red, who had a good chance before the half was out through Ronan Coughlan, when he hit just over from Devers' cross.
Buckley's side started well in the second half, with De Vries engineering time and space to create a shot from 20 yards which was ultimately blocked. We lacked any bite or momentum throughout the game, Buckley attempted to rectify this by sending on Cooper and Noone for Olberkis and De Vries, but nothing unfolded until the 68th minute, when Luke Byrne went in late on Junior and received a straight red card for his troubles. Despite this, we were unable to really harm Shelbourne's solid defense. Buckley then sent on Will Seymore and Mark Byrne for Morahan and Devers but nothing came out of it.
Teams
SLIGO ROVERS: E McGinty; S Olberkis (A Cooper 60), J Mahon, T Penninkangas, L Banks; D Cawley, N Morahan (W Seymore 78); J Devers (M Byrne 78), R Coughlan, R De Vries (D Noone 60), J Ogedi-Uzokwe.
SHELBOURNE: J Brady; G Poynton (D O'Reilly 19), O Brennan, L Byrne, A O'Hanlon; D Fernandes (D Byrne 72), G Deegan, M Byrne, R Brennan (S Quinn 85); D Rooney; C Kilduff (A Dobbs 85).
Ref: R Matthews
Rovers Ratings
Ed McGinty: 6 – Played well. Couldn't have stopped the goal.
Sigitas Olberkis: 5 – Didn't get forward enough. Replaced on the hour for Banks.
Teemu Penninkangas: 5 – Didn't stand out on the pitch.
John Mahon: 6 – Great to see him back on the pitch. Settled in very quickly.
Lewis Banks: 5 – Lost his head near the end of the game.
Jesse Devers: 5 – Crossing was decent but didn't offer much else.
David Cawley: 5 – Didn't get on the ball too often.
Niall Morahan: 6 – Was very pleasing to watch.
Ryan De Vries: 5 – Ineffective on the left.
Ronan Coughlan: 5 – Came close on a couple of occasions but couldn't hit the target.
Junior Ogedi-Uzokwe: 5 – Was unable to threaten Shams the way he could against Derry.
Alex Cooper: 6 – Offered attacking prowess down the left.
Darragh Noone: 5 – Couldn't do much with the time he had.
Will Seymore: N/A – Was brought on late in the match.
Mark Byrne: N/A – Didn't get enough time to warrant a rating.