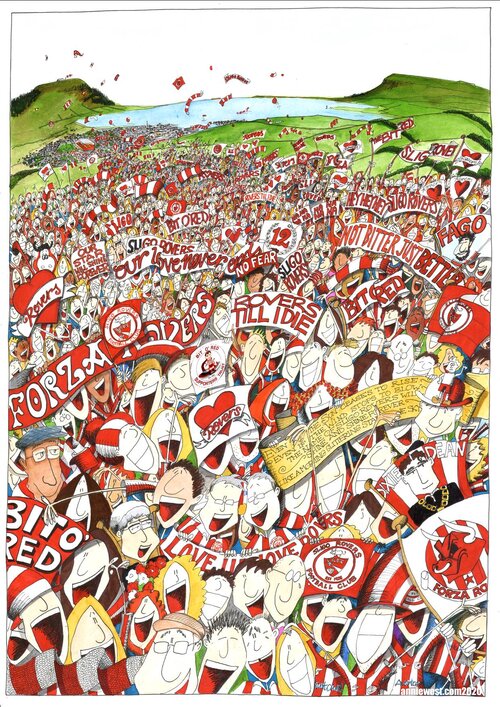 The Holy Trinity
"At a football club, there's a holy trinity – the players, the manager and the supporters."
These are the words of the great Bill Shankly, a football God, so is well entitled to paraphrase the doctrine of the Trinity for this football adaptation.
Shanks did need to make a few substitutions to the Trinity subbing in the Manager, Players and Supporters at the expense of the Father, Son and Holy Spirit. Just to strengthen the side.
With all three you get the heart and soul of the football club, the bond between fans , manager and team, stretch the ties between any of the 3 and the connection breaks, tighten it and the bond strengthens.
Both manager and player need to understand the true value of the club and what it means to the supporters to strengthen the bond. Cookie epitomised it best, as did Baraclough, McStay, John Coleman and Jimmy Bell got it and from it we seen successful periods in the club's history.
Heary never got it (and when his assistant Liam O'Brien argued with a Rovers supporter that we were Sligo and Shams were Rovers, he didn't get it either) Robertson didn't get it and both are easily forgotten.
Bucko understand the value of the club which filtered down to the players (forfeiting payments during this crisis), to know what it means to get to wear the Bit O' Red jersey, to represent the supporter from 8 to 80 watching from the stand (or Watch LOI) wishing it was, or will be them someday wearing their beloved jersey.
Dave Campbell in a radio interview recently had to get across his admiration for the effort fans put in to keep the club alive in his words he's "never seen such an effort of fundraising and commitment to a club by a group of supporters" . Campbell gets us.
Sligo Rovers supporters don't choose to follow the Bit O 'Red, they get chosen, its hereditary, a baton change from generation to generation keeping the race alive, sometimes we struggle but find the strength to keep going , to continue the race for those who may have passed or for those who are still to come. When we falter we need the team to pick us up to give is the strength to keep going, when the team falter we give them the strength to pick themselves up and keep going.
Shankly also said, he would love to be able to be able pay the fans for all their support ,and although this was not possible encouraged his players to play to their very best in every game and "To Make The People Happy" was payment in itself.
The simplicity of being the best you can, maximum effort as the minimum requirement, giving all, you got is not just for players and management, it's also for us the supporters to keep the club thriving.
At a football club, there's a holy trinity – the players, the manager and the supporters.
So, let's all keep it this way…
Amen 😊