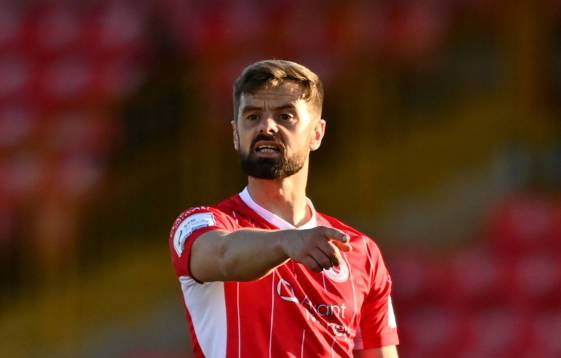 Bit O'Red captain Greg Bolger has grabbed the League of Ireland Player Of The Month award for May 2021. Amongst Bolger, nominees included notable players such as Derry City's Will Patching and Drogheda's Gary Deegan. This is the second time Bolger has won the award, having been awarded the same nomination in 2016 while with Cork City. Bolger accepts this award as the first Sligo Rover's player to achieve this title since 2013 when Anthony Elding and Danny North both were awarded.
Having only signed for us this season, Bolger has already proved a key player in our rise to top place in the table. Bringing with him experience from Cork City, St. Pats and Shamrock Rovers, he has become a squad leader on and off the field. Bolger not only impresses with his skill, footwork and determination but continuously leads his team through his direction and example. Bolger has been a key player in our starting 11 for every game since this season. His linkage play with players such as Buckley, Morahan and Gibson further upfield, has provided our side with a much more solid and adaptable midfield in comparison to last season.
His role as leader has become more evident across the League as Sligo Rovers not only rose to the top of the table, but managed to stay there, defeating 2020 champions Shamrock Rovers, who sat comfortably at the top of table since the start of the season. Bolger gained attention across the League for his performance in this game against Shamrock Rovers on 24th May. He altered between pushing back into defence when needed but also pressed high when there was an opportunity, he was all over the field and intercepted a series of balls allowing us to exchange our defensive position to a counter attack. This proved how skilful and adaptable Bolger is as a player.
Bolger is highly impressed with our club's side and improvement since his signing
"I think there could have been two or three Sligo lads up for the award because everyone has been excellent. It's nice that I've won it and I'm grateful but it could have been any of my team-mates".

The midfielder admits
"My performances have been good and I'm happy enough but I still think there is more in me".
We will next see Bolger in action this Saturday as Sligo Rovers take on Drogheda Utd, another team who have impressed this season. The match will be held in The Showgrounds, and will be the first time home supporters are allowed back in the ground since this season has begun, with 100 season ticket holders set to attend.